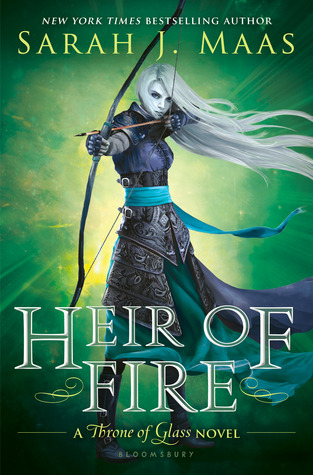 Title:
Heir of Fire
Series:
Throne of Glass #3
Author:
Sarah J. Maas
Publication Date:
September 2nd, 2014
Add to
Goodreads
| Buy from
The BookDepository
Lost and broken, Celaena Sardothien's only thought is to avenge the savage death of her dearest friend: as the King of Ardalan's Assassin, she is bound to serve this tyrant, but he will pay for what he did. Any hope Calaena has of destroying the king lies in answers to be found in Wendlyn. Sacrificing his future, Chaol, the Captain of the King's Guard, has sent Celaena there to protect her, but her darkest demons lay in that same place. If she can overcome them, she will be Adarlan's biggest threat - and his own toughest enemy.

While Celaena learns of her true destiny, and the eyes of Erilea are on Wendlyn, a brutal and beastly force is preparing to take to the skies. Will Celaena find the strength not only to win her own battles, but to fight a war that could pit her loyalties to her own people against those she has grown to love?
Review
I knew there was a reason I kept persevering with this series, and now I have found it. I wasn't a massive fan of the first two novels - Throne of Glass and Crown of Midnight - though the last of of CoM did persuade me to stick it out. Heir of Fire is, by far, the best of the three.
The size of Heir of Fire is definitely an indication to how much takes place in this part of the series. The story is set over a number of different places and narrated by various characters, both old and new. I actually really liked how it played out and Maas did it so effortlessly that I wasn't left confused or annoyed at the different jumps. The new characters were actually really interesting and I enjoyed the depth and complexity they added to the plot. Out of the four new main characters though, only two really grabbed my interest and I wasn't too sure what purpose the third one really had in this story. More on that in my discussion part! You also get to know a lot more about Celanea and her past, which I found fascinating.
There was a lot more suspense and action, paced perfectly so I flew right through it. It felt like the series was coming together and had more of a direction, instead of flitting between romance and fantasy.
Heir of Fire
is definitely my favourite of three that have been released and if you think the first two was meh, just keep preserving because I did and am so glad that I have!
(SPOILERS BELOW)
This was definitely one hell of a ride. I loved how the story progressed, slow to start but hitting the action just as quick. It really reflected Celaena's thought process, being sluggish and unmotivated only to have her ass picked up once she met Rowan and travelled to Mistward. Speaking of Rowan, I absolutely fell in love with him. I'm not sure why but the whole badass warrior image is pretty compelling, but there's still a vulnerability about him that it's too hard to really hate him. Contrary to what people think, I don't see his and Celaena's relationship as romantic but more like comrades. They gave each other something positive and really helped heal each other. It was such an inspiring platonic relationship and I loved that they could share a bed but not in a sexual way. I'm just sad that Celaena wants to separate with Rowan at the end, after having him swear an oath to here. Like come on! Hopefully there'll be more Rowan in the next book.

Manon was a great character as well, edgy and exciting. Whilst I did like seeing the more human side of her, I really did prefer her as the cold and calculative killer she is. The same can't be said for Sorscha who I found did really have a purpose besides being a new romance interest for Dorian and the final push for him to stand up against his father. I couldn't care less about their scenes, and I was slightly annoyed cause I've always been a Dorian and Celaena shipper. Which is why I liked this book more than the others because I didn't have to read about Chaol and Celaena so often. I'm not even going to talk about Chaol because he annoyed me from Crown of Midnight and it translated into Heir of Fire as well.



Maas does an epic job in broadening the world and strengthening the use of magic with the addition of witches and Fae people. The expansion of the world really opened up to the different possibilities and I could really envision the different settings. It also made sense because of the wakening of magic, which basically means the wakening of the entire world and every other element.


My favourite perspectives to read from were probably Manon's because I liked the whole different side of things, and Celaena's just to see her character development and rebuilding herself. I am so excited to see her unleash her magical powers and burn everybody down (how insane am I?). The training process for Celaena really has me super, super excited! The entire book was written so perfectly I really can't get over it. I don't even think that this review has made any sense, but seriously I could not get over it. The final moment when she accepts her own self and her role really has me excited for the next sequel and cannot wait to see how far the battle will go! The same can't be said for Dorian though, who's now under his dad's control and I am freaking out because I do not want anything bad to happen to him. Praying he can survive this.

Let me know what you thought about this because seriously this entire thing was insane!